Captain Herrala was born in Detroit and was a life-long resident of the area. His entire sailing career centered on the Browning Company and the Bob-Lo steamers
Columbia
and
Ste. Claire
; where he began as deckhand in 1947 at the age of 19. In short order he earned his license at the navigation school in Cleveland, Ohio, and worked his way up the ranks.
It was at the Browning Company where he met the love of his life, Woody Neme Herrala who survives him.
During the off season, Art worked for the Detroit & Cleveland Navigation Company aboard the overnight passenger vessel
Greater Detroit,
and
the Chicago, Duluth and Georgian Bay Transit Company aboard the cruise ship S.S.
South American
.
He also spent time working in the ore trade on the freighter
Charles E. Dunlap.
In 1955 he worked for McCarthy Steamship Company, and sailed from Detroit on the converted freighter
George H. Ingalls
as it carried loads of 411 brand new automobiles on a special 'flight deck' to various ports on the Great Lakes.
But the centerpiece of his career was at Bob-Lo, aboard the Columbia and Ste. Claire, Both steamers made multiple daily trips on the 18-mile run between Detroit and Bob‐Lo Island, along with midnight cruises on the waters of Lake Ste. Clair. Captain Art retired as Master of the Columbia when the steamers laid up for the final time in September of 1991.

After retirement, Art volunteered during several special events at the Dossin Great Lakes Museum and was often seen in uniform at the annual Blessing of the Fleet and Great Lakes Memorial Service at Mariners' Church of Detroit.
In 2009, the membership of Detroit Lodge No. 7 honored Captain Art with the
Lewis Ludington Award
.
The funeral home obituary and on-line guest book can be viewed by clicking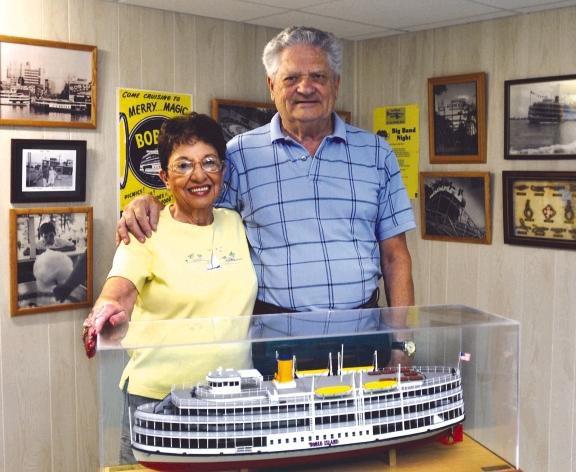 Art with his wife Woodie Neme Herrala in 2010.
They met working for Bob-Lo, where Woodie was secretary to the president.