Monsignor Russell Edward Kohler
Msgr. Russell Kohler, co-chaplain of Detroit Lodge No. 7, passed away on Friday, March 25, 2016 at the age of 72. He had been a member of Detroit Lodge No. 7 since December 3, 2001 and had served as lodge co-chaplain since that time.
Msgr. Russ was born in Monroe, Michigan, the son of the late Vernon A. and Mary E. (Kellison) Kohler. He graduated from Monroe Catholic Central High School in 1961. He entered his seminary studies at Our Lady of the Lake Seminary, Syracuse, Indiana and then transferred to Sacred Heart Seminary College, Detroit. He then enrolled at St. John's Provincial Seminary in Plymouth, Michigan for graduate studies and took additional courses at the University of Detroit.
On Palm Sunday, April 15, 1973, Msgr. Russ was ordained a Catholic priest at Detroit's Assumption Grotto Church by Bishop Joe Imesch and was assigned to St. Aloysius Parish in downtown Detroit from 1974-1980. He also served at St. David of Wales Parish and Patronage of St. Joseph in Detroit. He was Chaplain at Sinai and Grace Hospitals in Detroit between 1982-1991. In 1991 he was named pastor of historic Most Holy Trinity Parish in Corktown and on July 1, 2012 he was also appointed pastor of Ste. Anne de Detroit serving both parishes concurrently. He also had served as Associate Pastor at Assumption of the Blessed Virgin Mary (Grotto) Parish, Detroit. In addition, he served as administrator of St. Patrick Parish, White Lake; St. Joseph Parish, Detroit; and St. Charles Borromeo Parish, Newport. On December 5, 2012, Pope Benedict XVI appointed him Monsignor, Chaplain to His Holiness.
In 1974 he began working with cancer youth and established Pope John XXIII Hospitality House for cancer patients and was a director of Special Day Camps for youth with cancer and their siblings for over 30 years. In 1993 he helped create the Trinity Educational Foundation, which supports scholarships for inner city youth attending Most Holy Trinity School, founded in 1838. Msgr. Russ also organized, founded, and served as Chaplain of the St. Joseph of Arimathea Guild, an organization formed for the purpose of spiritually understanding the role of being a Catholic funeral director, and actively supported the St. Francis of Cabrini Clinic which provides medical and legal help for those in need.
He was appointed director of the Archdiocese of Detroit's port ministry the Apostleship of the Sea by Cardinal Adam Maida in 1998. In 2009 he was appointed to the Michigan Board of Examiners in Mortuary Science by then Governor Jennifer Granholm and reappointed by Governor Rick Snyder, and also sat on the board of the Michigan Automobile Theft Prevention Authority.
Msgr. Russ was a member and Chaplain of the Ancient Order of Hibernians for over thirty years. He graduated from the Schoolcraft Police Academy, serving as chaplain to the Wayne County Sheriff's Department, Detroit Metro Police Emerald Society and to the area police group, the Choir Boys. In addition to ISMA, his memberships included chaplaincies to the Inter-Lake Yachting Association, Detroit Yacht Club, Bayview Yacht Club, Swan Boat Club, (Newport, Michigan), Sunken Sail Yacht Club, (Irish Hills), National Apostleship of the Sea, Friends of the Detroit Fire Boat, Maltese American Benevolent Society of Detroit, and the Knights of Columbus.
He enjoyed hunting, fishing, antiquing, music, collecting automobiles, Tiger Baseball, and boating. He especially enjoyed spending time at his homes in Harrisville and the Irish Hills. When not in the Detroit Metro area, Msgr. Russ could often be found celebrating Mass at St. Joseph Shrine in the Irish Hills when called upon.
Msgr. Russ is survived by three siblings, Jacquelyn "Jackie" Miller of Monroe, Polly (Douglas) Lovell of LaSalle, and Barney Kohler of Onsted; sister-in-law, Denise Kohler of Newport; nephews, Carey (Rosanne) Miller, Jeremy (Nicole) Lovell, Casey (Zoira) Lovell, Derek Didario, Kellison (Elizabeth) Kohler, and Kory Kohler; niece, Abbey (Douglas) Moran; and nine great nieces and nephews.
In addition to his parents, he was also preceded in death by an infant sister, Susan; brother-in-law, Alan Miller; and infant great-niece, Audrey Moran.
Family and friends may visit from 2 p.m. to 8 p.m. Wednesday, March 30 at Rupp Funeral Home in Monroe, where a time of sharing will be at 6:30 p.m. Msgr. Russ will lie in repose Thursday at Ste. Anne de Detroit Parish at 2 p.m. where Bishop Donald F. Hanchon will celebrate Mass at 6:30 p.m. He will then lie in repose at Most Holy Trinity, Detroit at 2 p.m. Friday until his funeral Mass at 6:30 p.m. presided by Archbishop of Detroit, Allen H. Vigneron. Private interment services will be held at St. Charles Cemetery, Newport, where Monsignor Russ will be laid to rest with Rites of Committal offered by Bishop Hanchon.
In lieu of flowers, memorial contributions are encouraged to Most Holy Trinity Church, Most Holy Trinity School, or Ste. Anne de Detroit Church, all care of 1050 Porter St., Detroit, MI 48226.
Online condolences can be sent through
www.ruppfuneralhomeinc.com
.
Detroit Free Press
:
Detroit Catholic pastor Msgr. Russell Kohler dies at 72
Detroit Free Press
:
Easter Mass honors Detroit's Msgr. Russell Kohler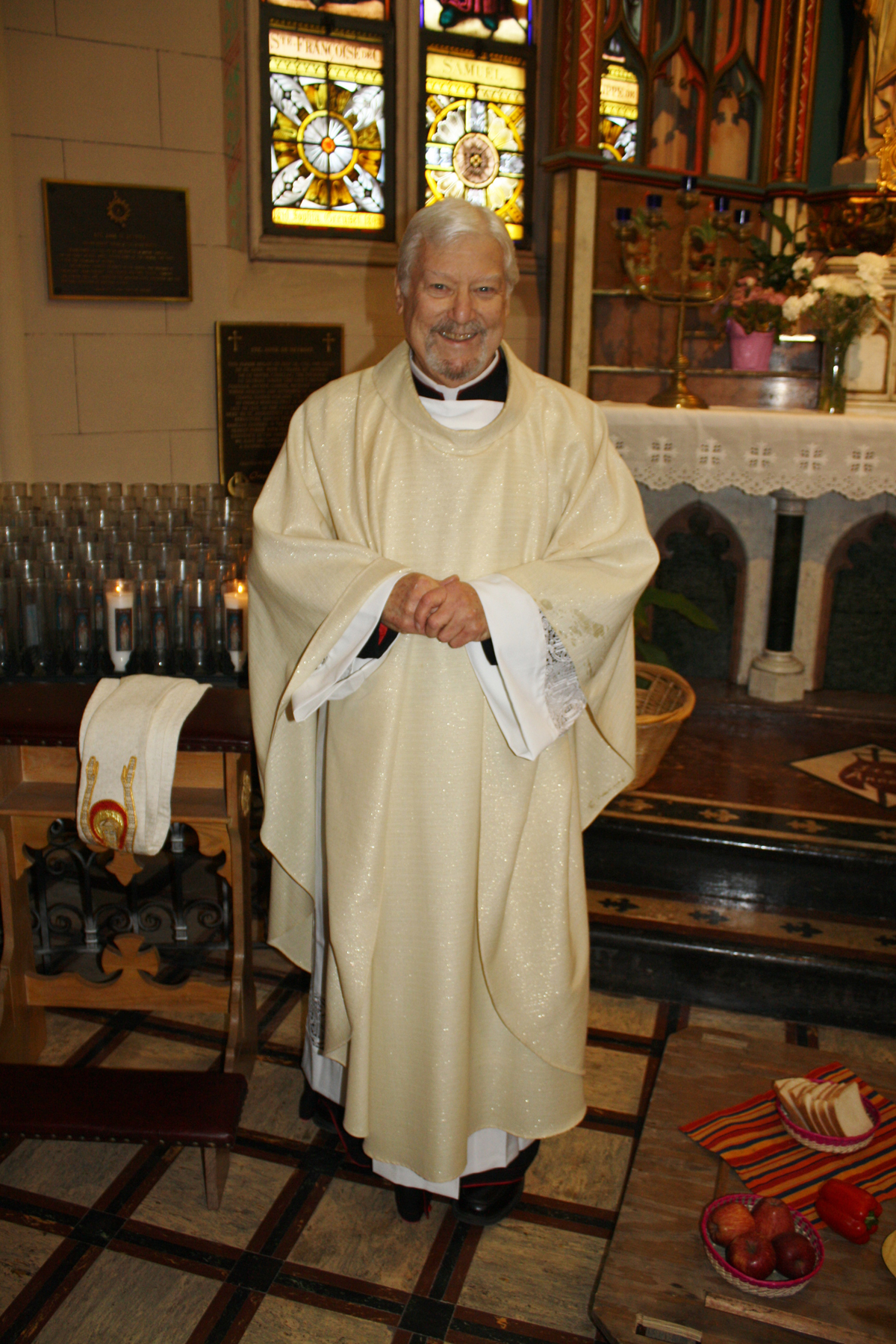 Msgr. Kohler on Sunday, May 3, 2015 at the
"Mass Mob" service
held at Ste. Anne de Detroit, the city's oldest Catholic Parish.
(click on photo to enlarge)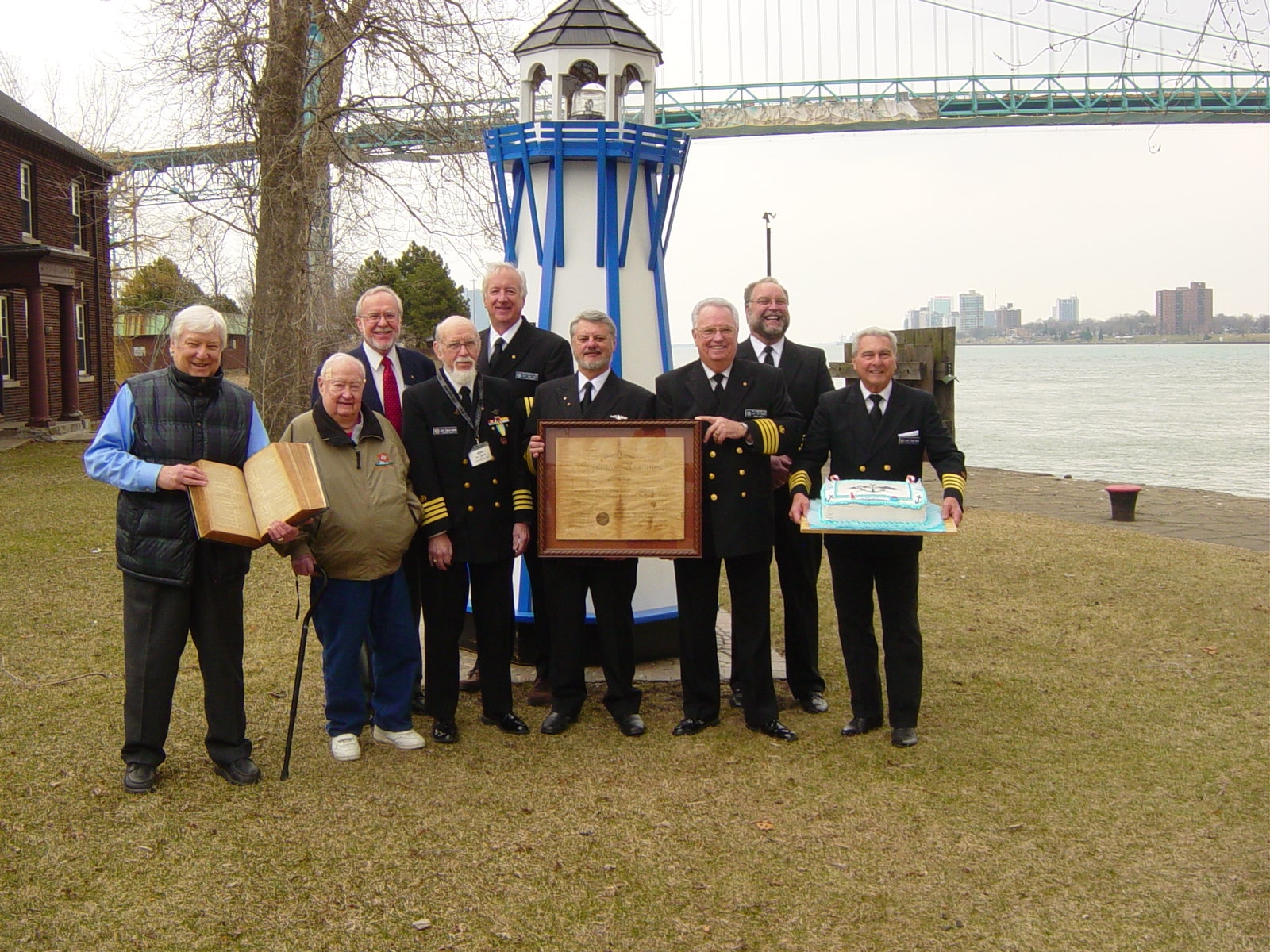 At the 120th Anniversary of Detroit Lodge No. 7, held at the J.W. Westcott Company on April 2, 2011,
Msgr. Kohler (on the left) holds the original lodge bible from 1891.


(Click on photos to enlarge)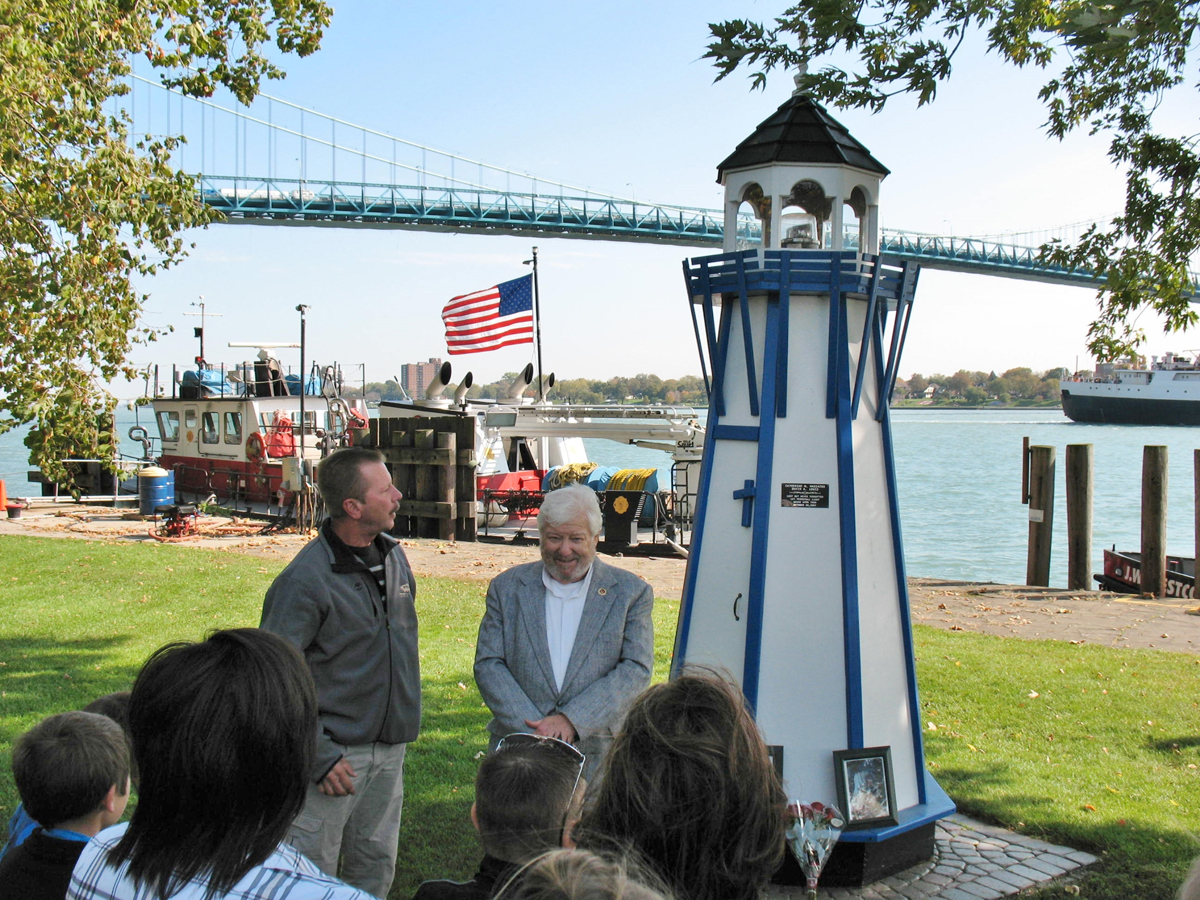 Msgr. Kohler speaks with the family of Capt. Cathy Nasiatka on October 23, 2011,
the 10-year anniversary of the
J.W. Westcott II
sinking.
Msgr. Kohler officiated at a memorial service for Capt. Nasiatka, who died in the tragedy.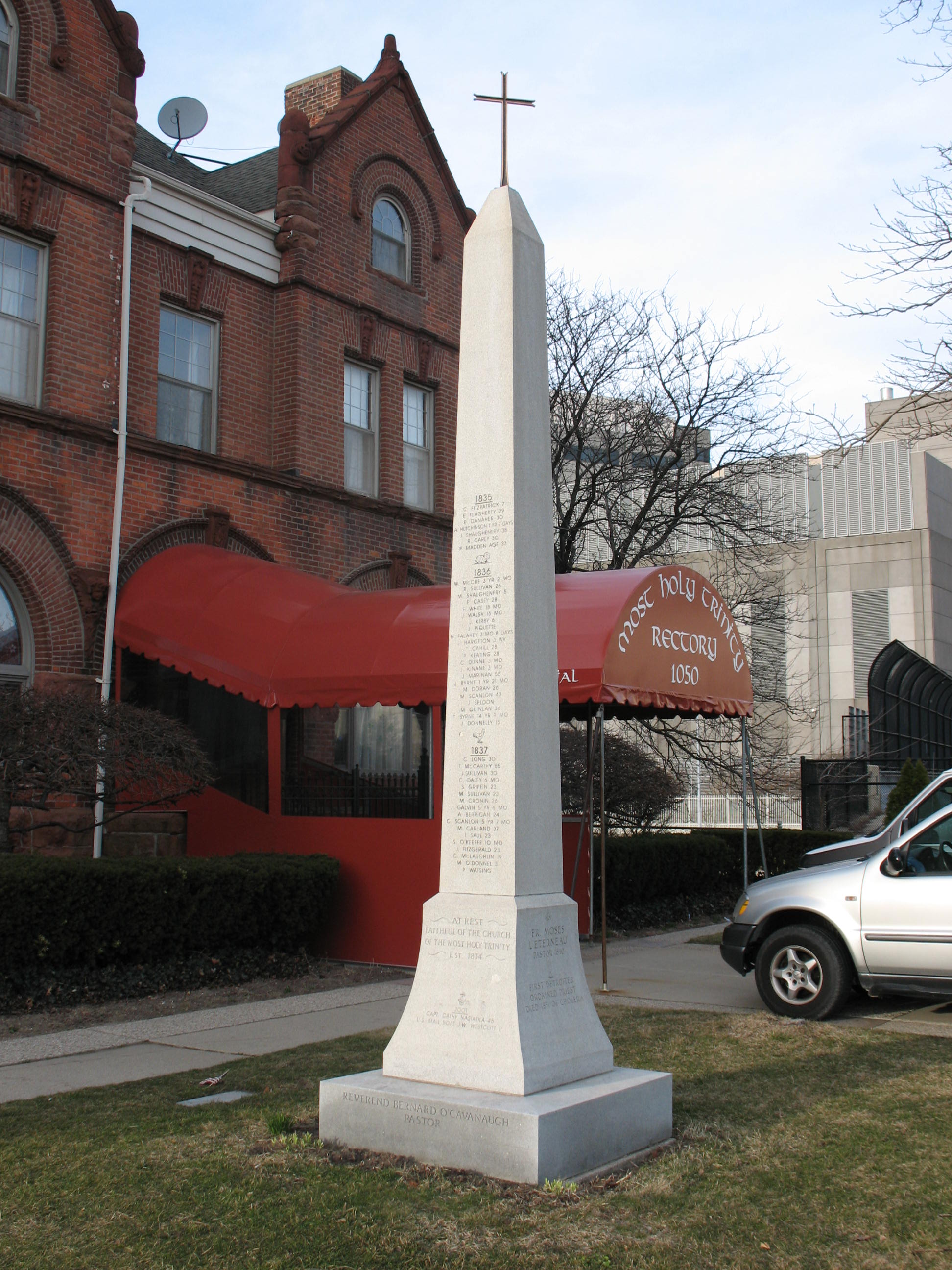 Over the years, Msgr. Kohler demonstrated his concern and attachment to the maritime community.
This monument sits in front of the rectory at Most Holy Trinity. Msgr. Kohler had it inscribed with Cathy Nasiatka's name.
Immediately after the 2001 mailboat tragedy, Msgr. Kohler arrived at the Westcott facility, where his aid and comfort was greatly appreciated by the staff and Nasiatka family members. Later, he held two memorial services at Most Holy Trinity Church.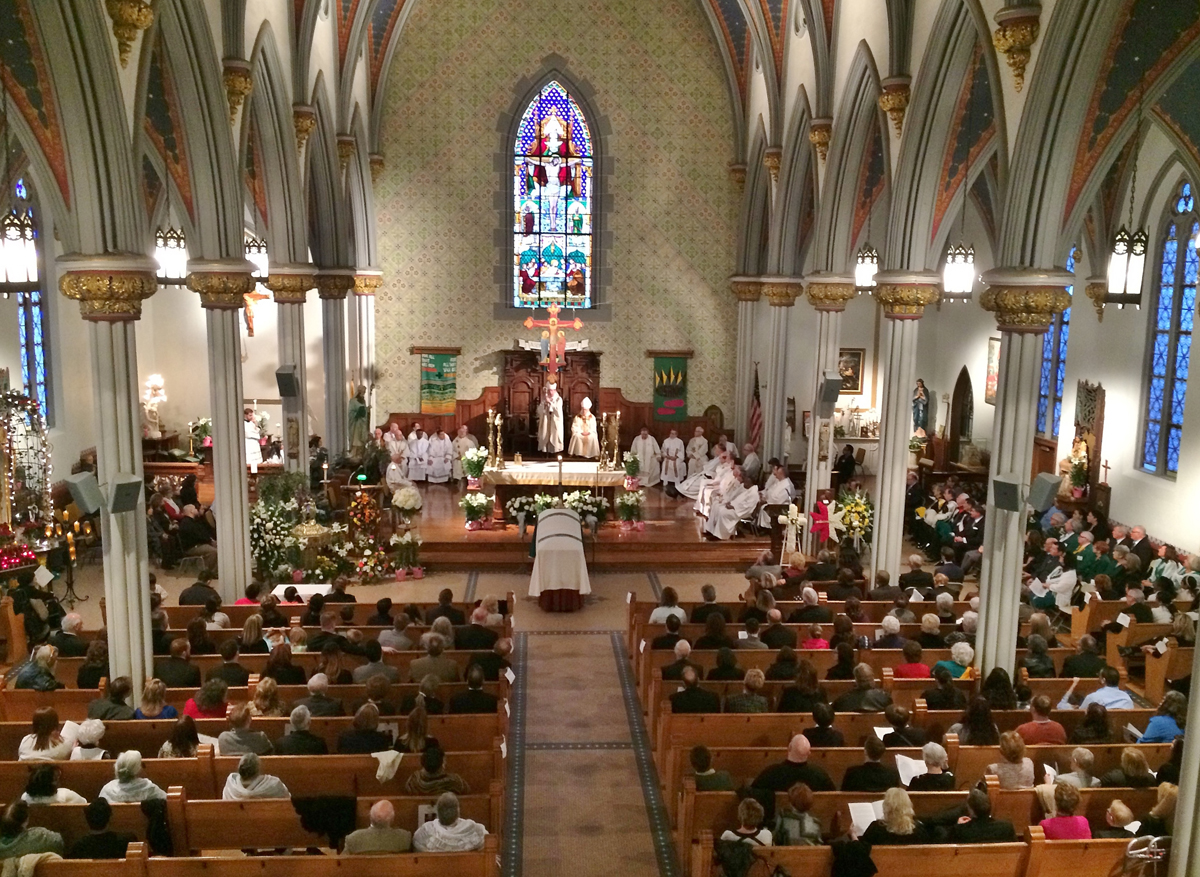 On April 1, 2016, archbishop Allen H. Vigneron presided over a funeral mass at Most Holy Trinity Church in Detroit.
Numerous priests of the archdiocese were also in attendance.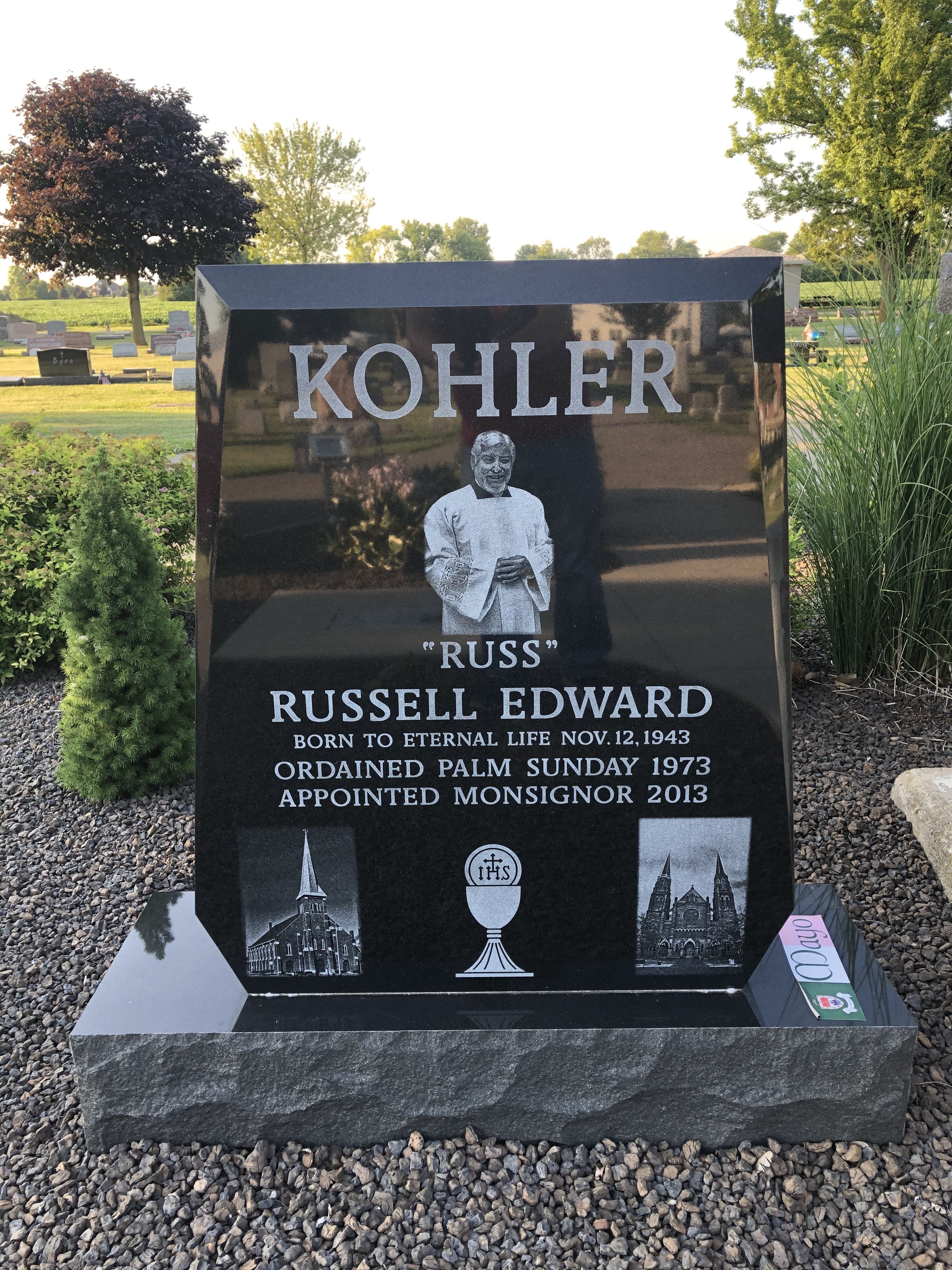 Fr. Kohler is laid to rest at St. Joseph Catholic Cemetery in Monroe, Michigan

Photo by Sam Buchanan July 24, 2020