Lodge member Faro Taormina passed away on Monday, August 13, 2012 at the age of 68. A former resident of Fair Haven, Michigan, he had been living in Palm Beach Gardens, Florida since 1997. He joined Detroit Lodge No. 7 on January 30, 1990.
Following many years as a cabinetry artist and a real estate agent specializing in waterfront homes, Faro began his career in the marine industry with boat sales - at Triangle Boats in Detroit, then South River Marina (now Sundog) and Viking, Tiara and Ocean Yacht sales at Toledo Beach Marina.
After leaving yacht sales, Faro became a self employed yacht captain, working on vessels such as the M/Y
Topcoat
, a 75 foot Pacemaker, where he was captain for 7 years, followed by a 61' Hatteras named
Shade Mor
, and the Detroit Tigers yacht, the M/Y
Tigress
, a 65' Berger. He also worked as a relief captain aboard the
J.W. Westcott II
mailboat.
After moving to Florida, he helped deliver a 61' Tollycraft called
Non Cents
from Michigan to Siesta Key in Sarasota. He then used his cabinetry expertise to rebuild the galley, salon and guest cabins onboard a 70-foot Hatteras called
Game On
... a project that took nearly two years.
His yacht delivery work included everything from a 45' Viking Sportfish to a 1953 65' U.S. Army T-501 Research Vessel. He traveled in waters from Lake Michigan to the Abaco Islands, even to Nantucket Island.
In recent years, he sold nautical items on-line including dimensional art created from NOAA charts, as well as hand-stitched leather wheel covers for both power and sail vessels. He also authored, manufactured and sold "The Master Yacht Collective" - a five-book set of logbooks for professional captains. As a tribute to Faro, his widow Polly Ann plans to continue selling the logbooks.
After a 19-year long relationship, a trip to the Abaco Islands in 1995 began with Capt. Faro finally presenting Polly with the ring that led to wedding vows aboard the M/Y
Topcoat
on Sept. 22, 1996. Thus, they had 36 wonderful years together as both yacht crew and soul-mates.
Polly arranged a final ride for Faro aboard the same yacht on Anchor Bay on August 29, 2012, with a floral tribute in his honor. Friends and family shared stories of Faro's life and cruises over champagne toasts. A C-130 flew silently overhead at the first toss of flowers.
May he forever enjoy fair winds and following seas...
In addition to his wife Polly Ann, Faro is survived by his son, David (Serafina) Taormina, and daughter Michele Hader, Grandchildren Danica, Autumn, Brooke, Sydnie & Deanna, and brother John Taormina. Faro is also survived by many loving nieces & nephews.
The family has requested that memorial donations be made to the
American Heart Association.


The funeral home obituary and on-line guest book can be viewed by clicking HERE.
The newspaper obituary and on-line guest book can be viewed by clicking HERE.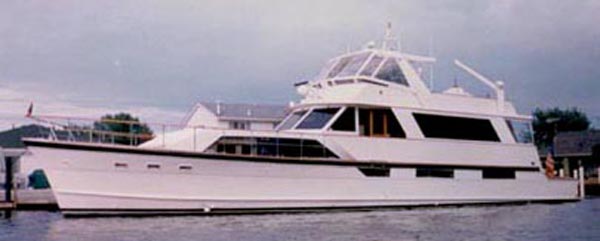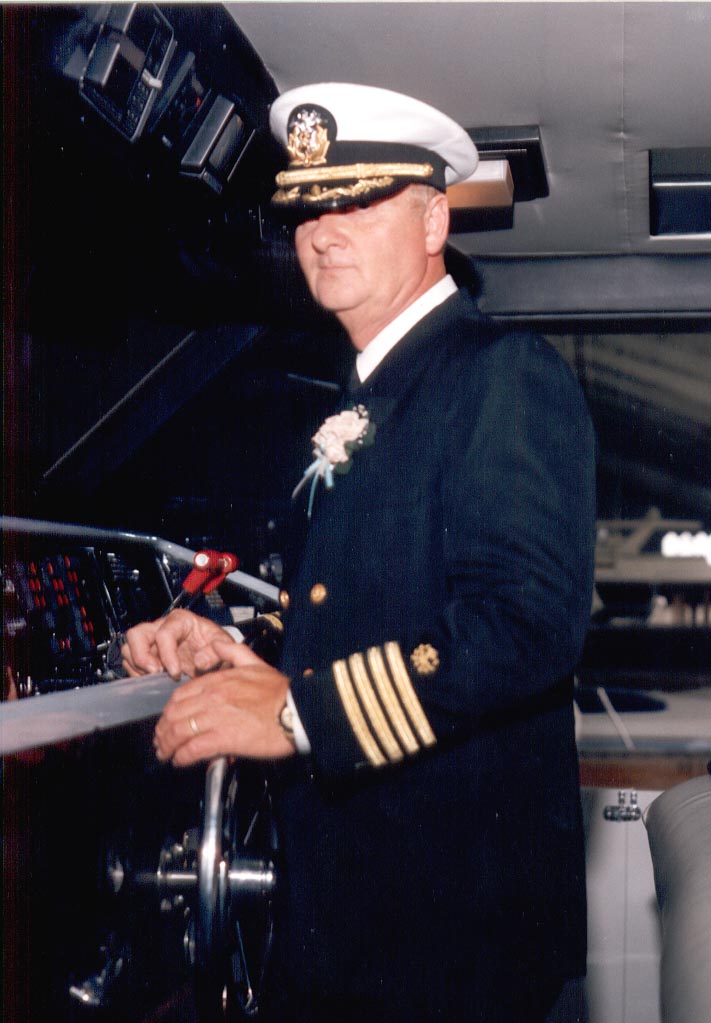 Motor Yacht
Topcoat
Faro in September of 1996